Roy Brandon first became involved in the breed in 1953 but then had to complete 2 years National Service in the REME. His Lornaville affix was registered in 1955. Since that time he has worked to maintain the Shepherd as it always has been in this country and in accordance with the KC standard ….he has produced 8 breed champions with 16 more from direct lines and far too many CC and Reserve CC winners to mention them all. A few less well known achievements inlude Obedience and Field Trials champions from Lornaville lines as well as Lornavilles working as Guide Dogs and Police Dogs and working with the Army and Air Force. He has been awarded Top Breeder, Top Stud Dog and Top Brood Bitch on several occasions.

He does not publicise his beginnings in the breed but did not have it as easy as some may think. He says, "my first Shepherd was not a good dog, although his breeding suggested he should be and it was not until I was fortunate enough to have Mrs Staton-Hickling as my mentor that I realised the mistakes I had made in buying him. She was a very hard task master and taught me the importance of knowing and understanding the breed standard before even attempting to handle a Shepherd let alone breeding one."

He has judged at the Irish and Welsh Kennel Club's Championship Shows - his bitch CC winner at the Welsh went on to Best in Show - as well as at Crufts in 1992 and at most other general Championship shows around the country. He is a Kennel Club assessor for first time CC judges. He judges all breeds at Open Show level and is on various Club lists for other Working/Pastoral breeds.

On top of his unfailing commitment to the Alsatian (GSD), Roy spent many years in racing, both with thoroughbreds and also racing Arabs in more recent years. He has enjoyed success racing top class greyhounds and still has a great interest in these areas - he is always promising to get another horse in training, so watch out for the Champion Hurdle!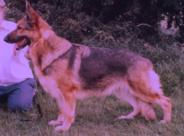 Foundation bitch Balacents Nora of Lornaville. By Rossfort Oran of Kenmil out of Almerine of Balacents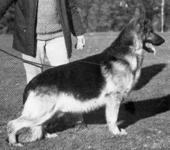 One of the two males upon which the Lornaville lines were built - Champion Tarquin of Dawnway. A magnificent black & red dog by Champion Eclipse of Eveley out of Masquerade of Dawnway
The second of the males to be found on all Lornaville pedigrees - Champion Spartacist of Hendrawen. By Crufts Supreme winner Champion Ramacon Swashbuckler out of Flicka of Brinton